Jul 8
World Cup Final Preview
Posted By:Brett Haynes - Greenville, SC Tags: World Cup, Netherlands, Spain, Wesley Sneidjer, David Villa
The Netherlands vs. Spain - 1:30 est - Sunday - ABC - For the second time in two World Cups, we have an all European final. Also, we have a final featuring two nations that have never won the Jules Rilet Trophy. The stakes have never been higher as we count down to Sunday afternoon as the match to determine the best in the world will go down in Soccer City in Johannesburg . I am no geography teacher, but here is a quick look at the two countries about to go at it in the 2010 final. I was able to visit both of these countries on a 2003 trip to Europe, and can tell you that either would be a great place in which to live!
These two teams have four things in common to me right off of the bat. First, they are both well skilled and play together. Second, both teams play as hard as nails to the end of every match. Third, they both have a very strong history that is missing a World Cup title. Fourth, they each have players who play for the finest professional squads in Europe, and are quite familiar with one another. This matchup has "instant classic" written all over it, and predicting a winner is next to impossible.
Spain has been the world's number two ranked team in the FIFA rankings seemingly forever, and also has some hardware to back that up. They won the EuroCup in 2008, and the Confederations Cup in 2009. So while it is no surprise they are here, at the same time it sort of is since their previous best World Cup finish was fourth in 1950. The Dutch meanwhile have also had flirts with glory in their history, and upset world number one Brazil on their march to the championship game this year.
There is no lack of heart from either squad.
The Dutch are led by midfielder Wesley Sneijder, the 26-year old who already has five goals in this World Cup (19 international total).
Spain is led by David Villa, the 28-year old striker. Villa scored the game winner against Germany in the 1-0 thriller. He has 43 international goals in his career.
The Netherlands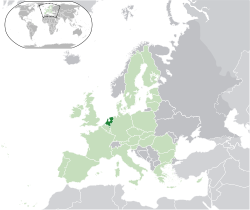 Location: Europe
Capital: Amsterdam
Size: 16,033 square miles
Population: aprox. 16,600,000
Date founded: July 26, 1581
Governmental system: Parliamentary system, Constitutional Monarchy
Colors on field: Orange and white
Best World Cup finish: 2nd (1974 and 1978)
Coach: Bert Van Marwijk
Interesting facts: Oddly enough, in the Netherlands' earliest days, they (or their combined provinces) were fighting to gain their independence from none other than Spain in the "80 years War." Someone should have told these guys back in the 1500's they would meet on the pitch 500 years later for the soccer (ok, futbol) title to see who was best in the world.....The Netherlands is widely regarded as the world's first capitalist country (late 1600's) due to its busy trade port and one of the first known stock exchanges....Today, the country is seen as liberal based on its relaxed drug policies and stance on same sex marriage....It is a member of the UN, EU, NATO, WTO, and OECD.
Kingdom of Spain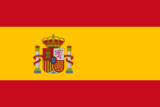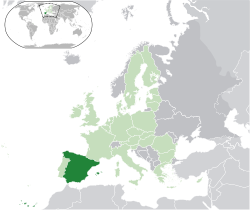 Location: Europe
Capital: Madrid
Size: 195,364 square miles
Population: aprox. 46,030,000
Date founded: 1479
Governmental system: Parliamentary system, Constitutional Monarchy
Colors on field: red and blue
Best World Cup finish: fourth in 1950.
Coach: Vicente Del Bosque
Interesting facts: It is a member of the UN, EU, NATO, OECD and WTO. Spain also is in the world's top 10 in quality of living. Spain sits on the Atlantic Ocean and has a long and storied history full of invasions and changes of power. Most recently, it is under the government that was stabilized in 1978. So far, so good...Spain has a very diverse culture with Muslim and Christian influences, as well as those brought in on ships from around the globe...
So there is just a brief bit about the two nations. Now, I suppose I need to come up with some kind of prediction....Hmmm. I watched a very large portion of the world Cup games, and I think I am calling this one a toss up. The defenses in this game will be defending to the death, and it is just way too hard to predict an honest choice. Howver, I really like the orange uniforms of the Dutch, and I like their style of play. The best way for me to enjoy the game is to pick the team I really want to win, so therefore I am going with the Netherlands!
You Pick 'Em
Pick 'Em is currently closed for this week.