Dec 15
College Football News and Notes
Posted By:Brett Haynes - Greenville, SC Tags: BCS, college football
This void between the regular season games and the bowl games is killing me! Luckily, the first bowl game of the season is just three nights away...Here are a few thoughts on the hiring of Al Golden at Miami, the Big Ten division names and layouts, and the award for best and worst first-year head coaching jobs for 2010...
Al Golden hired at Miami. I'm going to give this guy a shot before just saying this was an average hire by the Hurricanes. But Miami - once the premier coaching stop in college football - has now resorted to looking to Temple for their head men. Miami can say what they want about "what he did at Temple," but it is a whole different monster at the U. This isn't a total start from scratch rebuilding job, but rather a program looking to take the last step or two and reach ten wins or more. And that, to me, is why the U should have gone after a proven, elite coach. After all, this is Miami....right?
Golden did in fact turn Temple from an absolute laugh-out-loud joke into a solid, disciplined football team. And that clean discipline is what the Miami brass has in mind under Golden. But we all know deep inside that Miami isn't a program that hangs its hat on being the most well-behaved student in the class. These guys win when they are strutting. They win with attitude. Miami isn't a normal program. They just aren't.
I don't know the exact situation with Mike Leach, the former Texas Tech coach, but that is who I would have gone after with my hair on fire if I was Kirby Hocutt, Miami's Director of Athletics. Leach is not only a proven winner and program builder, but also has a charisma about him that would have been super unique for the U - and unique is what they like to be. Yeah, a Texas man in Florida seems odd - and that's why it would have been awesome. Oh yeah, Leach can coach the living mess out of some football, too.
But Miami never asked me what I thought, and now they have Golden. Personally, I see this as a very average move - and a sign of what Hurricane football currently is. Ten years ago, this job opening would have created shock waves across America. This time around, I heard very little about it, and then the Temple head man is hired.
Golden will get his chances to prove to me he is a big-time coach. And hey, just to make sure it is known, I haven't said one time in this article that I have anything at all against Al Golden. He seems to be a stand-up guy that many in college football respect. And yes, his turn-around at Temple was very impressive. I just see this hire as a big question mark...
Big Ten divisions and division names. The newly expanded Big Ten conference (who now with twelve teams will still apparently keep the same name) announced Monday the names of their divisions and who will be in which of those divisions. The division names selected are "Leaders" and "Legends."
The Leaders are: Illinois, Indiana, Ohio State, Penn State, Purdue, Wisconsin
The Legends are: Iowa, Michigan, Michigan State, Minnesota, Nebraska, Northwestern
I am on the fence with these names. One side of me says to give it time and it will grow on me. But the other side of me is wondering why the league couldn't have come up with anything (at all) different than these names. They sound like English Premier League soccer division names or something. Maybe in ten years I will be used to these names. I don't know.
Geographically, the Big Ten could have made it work better simply by doing a division of northwestern teams and a division of southeastern teams. I would love to take credit for this idea, but it was actually brought up in our forum by Throw-Them-Bones. Here is a map of the Big Ten (courtesy of TTB), and as you can tell, the names "Northwest" and "Southeast" would apply fine.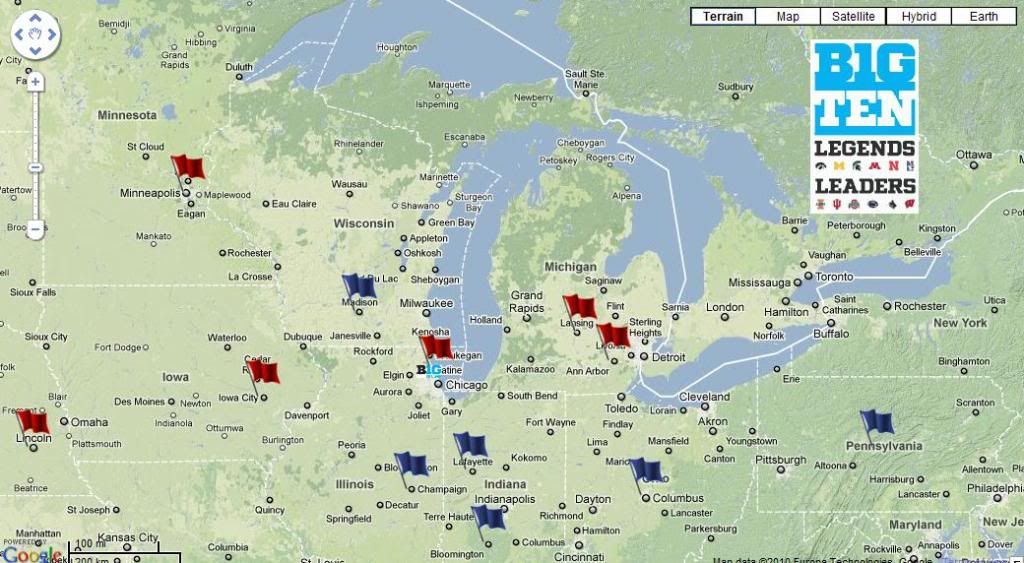 Map image: Google images and Josh Morse (TTB)
As I study this map, I see many different ways the Big Ten could have realigned things and come up with a better split of their twelve teams. But just like with the Miami hire of Al Golden, the Big Ten and their commissioner, Jim Delany, never asked me what I thought on the matter. Leaders and Legends is what the Big Ten is going with, and we now move into the future with those names.
Best first-year head coaching job. Now that the regular season has come to a close, we can look at the first-year head coaches of 2010 and see who made some progress and who is still stuck at the starting line. I feel it takes until year three or four sometimes, but you can also get a good idea after year one which of these coaches will really turn it on in year's three and four.
* Derek Dooley, Tennessee (6-6)
* Tommy Tuberville, Texas Tech (7-5)
* Jimbo Fisher, Florida State (9-4)
* Brian Kelly, Notre Dame (7-5)
* Skip Holtz, South Florida (7-5)
* Lane Kiffin, USC (8-5)
The award for best coaching job of a guy in the first year at their school this year goes to Jimbo Fisher of Florida State. The 23rd ranked Seminoles went 9-4 (6-2 in the ACC) and won the Atlantic Division. They will play in a very nice bowl game (the Chik-Fil-A Bowl in the Georgia Dome) against a nationally ranked South Carolina team.
Fisher has been the head coach just a year, but has been on the Seminole sideline since 2007. Many at FSU wondered what would happen with the retirement of legendary Seminole Coach Bobby Bowden. Well, it looks early on as though Fisher has the right stuff to be a good head coach at a big school and that FSU will be in good hands. He can also recruit well. According to Rivals.com, his anticipated 2011 FSU class is the third best in the country.
Worst first-year head coaching job. I hate to call out the dudes that are already having a bad year anyway, but here is a little salt in the wound for our biggest underachiever(s). There were a lot of good, qualified candidates for this award! Five coaches were 2-10 or worse in 2010, and here are the candidates:
* Willie Taggart, Western Kentucky (2-10)
* Mike MacIntyre, San Jose State (1-12)
* Larry Porter, Memphis (1-11)
* Bobby Hauck, UNLV (2-11)
* Robbie Caldwell, Vanderbilt (2-10)
* Turner Gill, Kansas (3-9)
And the award goes to....Larry Porter, Memphis. While MacIntyre is a very close second, I will go with Porter. The Tigers have some players - I know that much - but still managed to lose every game in their conference. They gave up over 41 points seven times, including a 56-0 loss to lowly Louisville. A week-three win over Middle Tennessee gave them some life, and they responded with nine straight losses to close the year.
You Pick 'Em
Pick 'Em is currently closed for this week.